The Foundry Lofts are near and dear to me. I lived there for about 5 years. It was my first home with my wife, where we lived when we got married, and where we began to build our family and had our first child. Aside from my personal history and sentiments, living at the Foundry Lofts was simply...unforgettable!
Inside and out, the original architecture was preserved to highlight its historic characteristics and charm. In 2008 it was revitalized to provide its current modern day finishes and function. The Foundry Lofts are hands down one of the most unique buildings in Toronto. This is a true definition of a hard loft and is the only condominium in Toronto to have a 16,000 square foot indoor atrium. This amazing space is open to all residents and hosts a variety of building parties and events fostering a tight-knit community like no other.
The Foundry Lofts are part of Dovercourt-Wallace-Emerson-Junction in Toronto's west-end, not too far from the downtown core. It's comprised of various smaller communities, such as Bloordale Village, Bloorcourt, Dovercourt, Wallace Emerson, and the Junction Triangle. The area offers a ton of great restaurants, bars, bakeries, and coffee shops, just one of the reasons it has been highlighted by Toronto Life as the number one neighbourhood to buy in. If you don't already own a home in the neighbourhood, consider snatching one up at the Foundry Lofts!
Unit 310 is a bright east-facing "Canadian National" unit that boasts 1,175 square feet. This 2-storey loft offers a flawless balance of old and new. The main floor has soaring 16ft ceilings, large bright warehouse windows, exposed industrial ductwork, and an original heritage brick feature wall; a perfect canvas for creating your very own pinterest worthy posts! The kitchen was recently refreshed and features new lighting, new full-sized stainless steel appliances, and an extended modern quartz countertops. The second floor master bedroom loft overlooks the living room, is large enough to fit a king size bed, and features both his and her closets. The second bedroom is a great size with closet and features unique vaulted ceilings. Unit 310 is a very unique offering with the classic dark stained finishes, numerous updates in the kitchen and bathroom, and comes with both one parking space and locker. If you've been eyeing the Foundry Lofts, you definitely don't want to overlook this one!
If you are interested, give us a call at 416-888-9222 or visit us at our Open House on Saturday 15, 2018 between 1-4pm where we will be serving some of the neighbourhoods best coffee and snacks. Hope to see you then!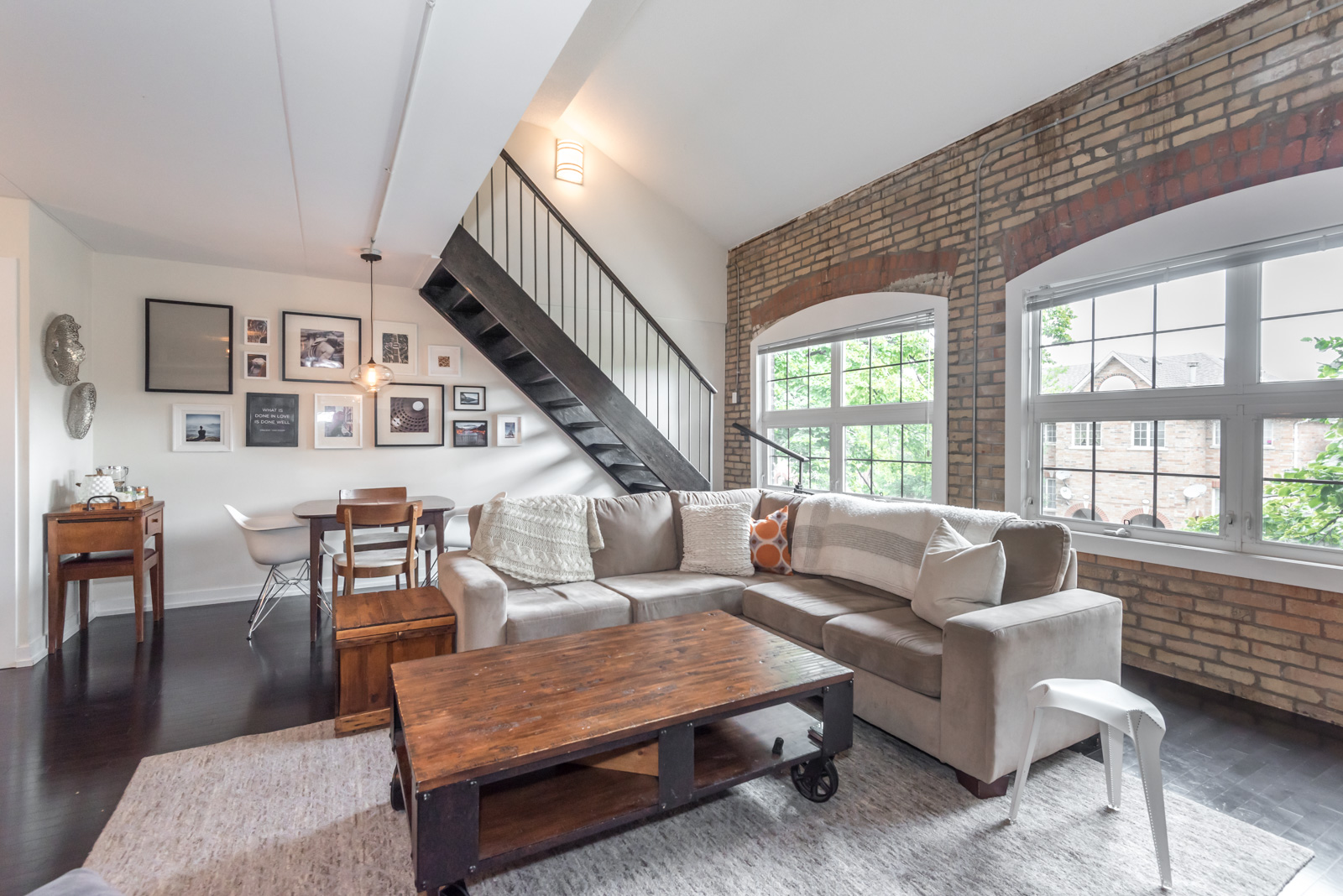 ** Scroll down to see the Floor Plans on Instagram **